JUNGLE PLAYLAND
Mount Vernon, WA
Last Updated 02/09/2021
Do you know those days when your kids are bouncing off the walls? Your patience and sanity begin to teeter and you find yourself wishing for a place where they could burn off some of that energy. Lucky for you, such a place exists in Skagit County and it's just a skip and a hop away.
Jungle Playland is the ideal place for kids to jump, bounce and slide into some serious fun!
The animal-themed indoor playground aims to inspire kids to learn through movement and play and includes 3-stories of various slides, tunnels, ball pits, soft mat surfaces, a rock climbing wall and more. There is a separate "Lil Jungle" area for toddlers, featuring 700-square-feet of equipment designed specifically for kids 2 and under.
A snack bar offers food for order including pizza, fries, chips, drinks among other snack items.
The indoor space is conveniently situated in Mount Vernon and is designed for children 12 and under. The facility is also available for parties and special events and provides separate rooms for celebrations. A deposit and reservations are required.
Jungle Playland is a non-profit community-oriented family entertainment center is operated under Cascade Christian Center's children's ministry and First Baptist Church.
Q & A INSIDER LOOK AT JUNGLE PLAYLAND
Q: Where is Jungle Playland located?
A: 2901 Martin Road, Mt. Vernon, WA 98273
Q: What are Jungle Playland's hours?
A: Sunday – Monday 12:00pm – 5:00pm
Tuesday Closed
Wednesday – Friday 12:00pm – 5:00pm
Saturday 10:00am – 7:00pm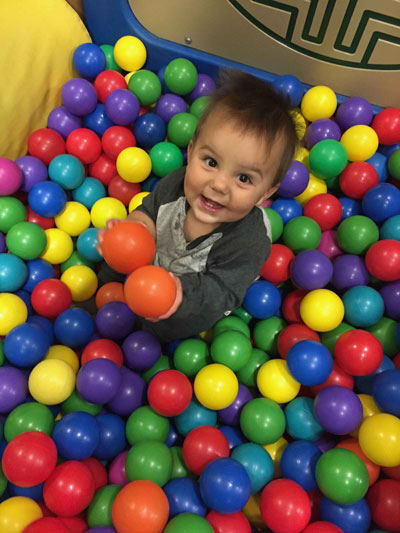 Q: What does Jungle Playland admission cost?
A: Children 1 & under . . . FREE
Children Walking – Age 2 . . . $5.00
Children Age 3 – 6 . . . $7.00
Children 7 – 12 . . . $9.00
Adults . . . FREE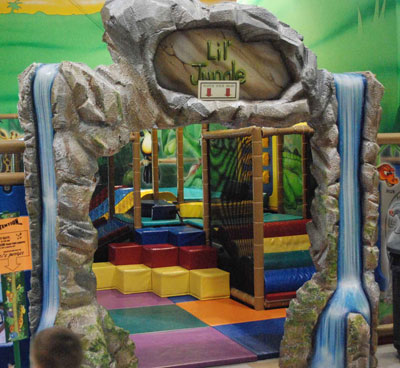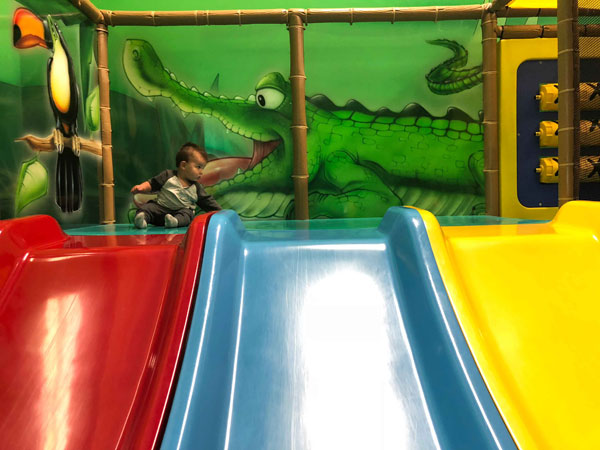 Q: What are the requirements to play at Jungle Playland?
A: It's recommended to wear comfortable clothing for play and socks required.
Q: Is there seating for adults at Jungle Playland?
A: Yes, there are numerous large tables and chairs for parental supervision around the perimeter of the play area. First come, first served.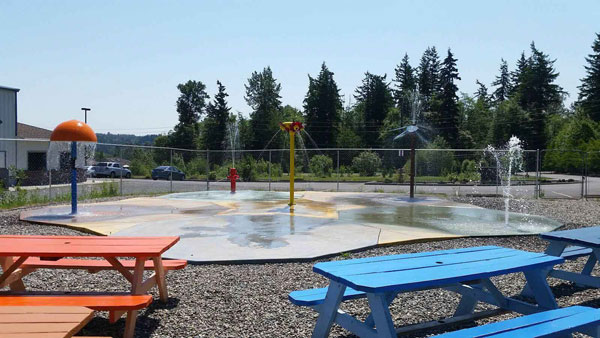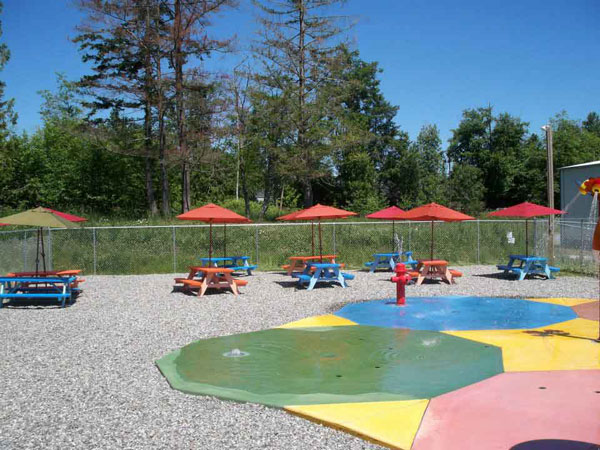 Q: Is there an outdoor play area at Jungle Playland?
A: A spray park is open during the summer months and all participants are required to wear swimwear and swim diapers (if not potty trained). Bring your own towels.
Q: Does Jungle Playland host birthday parties for kids?
A: Jungle Playland offers birthday parties during business hours and also private parties after they have closed.

Business Hours Party: 90 minutes with a $30 room rental charge that does not cover admission to Jungle Playland. No outside food or drink are allowed except for cake and ice cream (which they can store for you). More party rules can be found here.
Private After Hours Party: You can rent Jungle Playland for your child's party. Rates start at $330 for the first two hours and $150 for each hour after that (two hour minimum). You may bring your own food and beverage to a private party and host up to 250 guests. Party rules can be found here.
Additional information about Jungle Playland
No outside food or drink
No running up slides
Balls Stay in Ball Pits
There are cubbies for shoes
Ride on toys and arcade games are available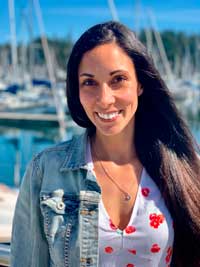 Lindsay Bartis is a mother of two young kids and lives in the Mount Vernon area. Her husband serves in the U.S. Navy and she was born and raised in the Greater Seattle area. After being stationed in Florida for three years, she was thrilled to move back to the Pacific Northwest, the place that will always feel like home. She has been writing for various newspapers, magazines and online publications for nearly a decade. Lindsay is currently a stay-at-home mom who loves to stay active in the community. Skagit Kid Insider is how she stays up-to-date on all the fun, new activities and kid-focused events offered in the area. When you have two kids under the age of four, you have to keep them busy!
***Events are added at the discretion of Kid Insider, LLC***


All material contained in this guide is copyrighted and protected under the Digital Millennium Copyright Act. No part of this guide may be copied or reproduced in any way.
Add a "Flyer" Ad to your event listing for $75 and have it linked to your website or Facebook page.
It is THE BEST way to get your business in front of Skagit County families!!
I include a Facebook post with each ad and I just reached 11,200 followers on Facebook.
Email Stephanie @ This email address is being protected from spambots. You need JavaScript enabled to view it. for details.
SKAGIT KID INSIDER IS NOT PERSONALLY RECOMMENDING THESE EVENTS.
ATTEND EVENTS AT YOUR OWN RISK.
PLEASE CONFIRM THE TIME, DATES & FEES, AS THEY MAY CHANGE WITHOUT NOTICE TO SKAGIT KID INSIDER.
THANK YOU & MOST OF ALL ENJOY TIME WITH YOUR FAMILY!